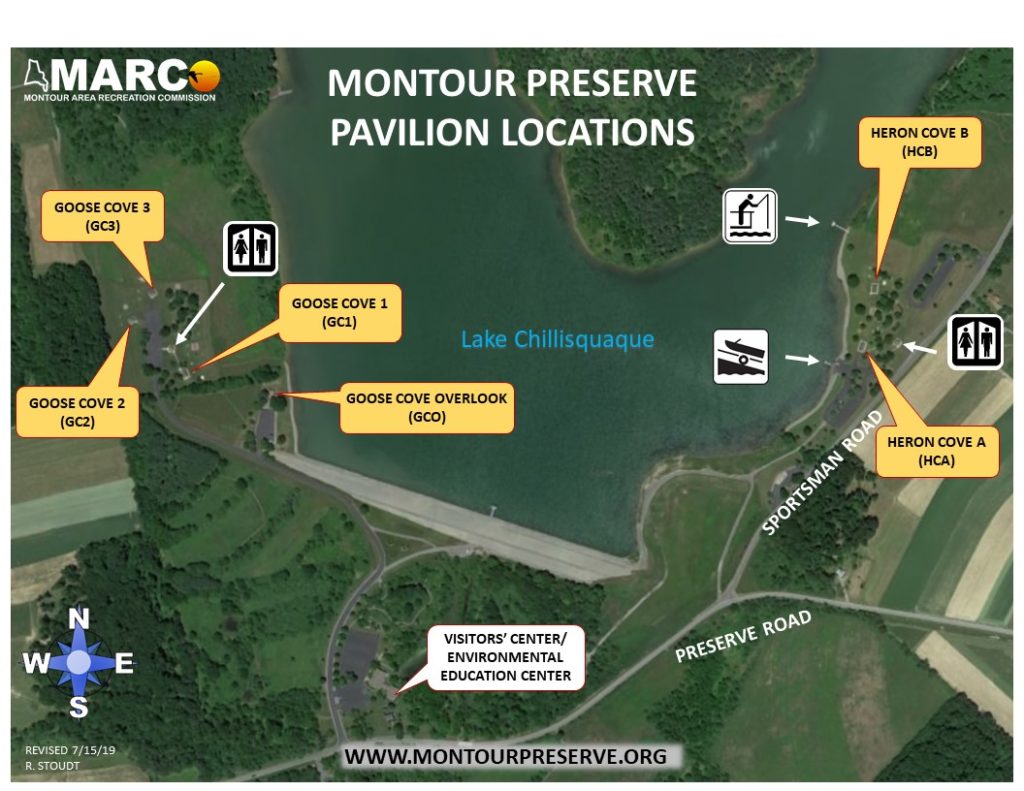 The pavilions and other facilities at the Montour Preserve are freely available for public use during the site's normal dawn to dark hours of operation. However, the Preserve's six pavilions may be rented on a daily basis (or half-day at Goose Cove #2, Goose Cove #3, and Goose Cove Overlook).
Individuals or organizations that have made reservations are allowed the exclusive use of the reserved pavilion(s) during the times requested; all other users must yield the use of the pavilion(s). However, under no circumstances may those who have made pavilion reservations be permitted to deny entry by other users to the Preserve, its play areas, charcoal grills, picnic tables, etc.; pavilion reservations entitle users only to the exclusive use of the pavilion that they have reserved.
PAVILION FEATURES
Montour Preserve pavilion amenities include:
Charcoal grills (bring charcoal & supplies)
Electrical outlets (number varies by pavilion)
Nearby restrooms
Swing sets
Horseshoe pits (bring horseshoes)
Drinking water
Trash cans
Nearby open fields for play
Sandboxes with diggers (near GC1 and HCB)
Nearby fishing pier (HCB)
Nearby boat ramp (HCA & HCB)
Additional picnic tables are available nearby
PAVILION SEATING CAPACITY / 2024 RENTAL RATES
The pavilion seating capacity and 2024 rental rates are as follows: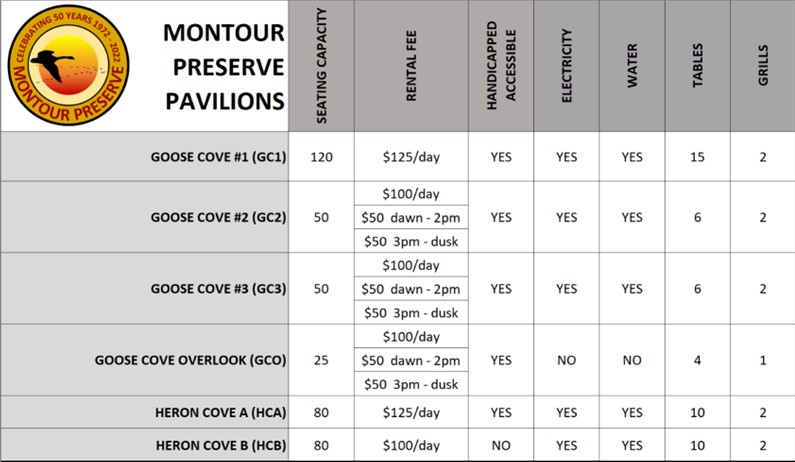 PAVILION / PRESERVE RULES
Because many people visit and enjoy the Montour Preserve throughout the year, we ask for your help in keeping the preserve a safe and beautiful natural recreation area.  For your safety, the safety of others and the protection of the preserve's resources, we ask that you adhere to the following rules while visiting the preserve:
Leave all pets at home; dogs (except service dogs) are not allowed

Alcoholic beverages, narcotics and firearms are prohibited
Do not move picnic tables
Vehicles must be parked on paved surfaces in designated spots
Do not swim in the lake, ponds or streams
trails are open to pedestrians only; bikes, pets, horses, and motorized vehicles are not allowed
Boating in Lake Chillisquaque is prohibited from March 15 – April 30
Boating in the Goose Cove refuge area is prohibited year-round
Gasoline engines may not be used on the lake; electric motors are allowed
Visitors must obtain a permit from MARC before entering the wildlife refuge and observation blinds
Fishing is allowed in Lake Chillisquaque, but not in preserve ponds or streams
Preserve hours are dawn to dark
Hunting and trapping are not allowed in the preserve
Collecting of plants, animals and other natural resources is not allowed except in the Fossil Pit
Open fires are not allowed except in charcoal grills or gas grills
Radios and other sources of noise must be kept at a level that will not disturb other preserve visitors
Camping is not allowed in the preserve
EXISTING RESERVATIONS
Existing pavilion reservations are shown on the calendar below.  Please refer to the table and map above for pavilion name abbreviations.
REFUND POLICY
MARC will not refund pavilion reservation fees because of bad weather. However, in the event MARC must close the Montour Preserve because of governmental mandates, flooding, or severe weather-related problems, MARC will fully refund any pavilion reservations which must be cancelled.
MARC will fully refund any pavilion reservation cancelled at least thirty (30) days before the date of the reservation. MARC may, at its discretion, partially refund any pavilion reservation cancelled between twenty-nine (29) and fifteen (15) days before the date of the reservation. No refunds will be made for reservations cancelled less than fifteen (15) days before the date of the reservation.
TRASH REMOVAL AND PAVILION CLEANING
Pavilion users are asked to help keep the Montour Preserve clean and attractive for other users by leaving the pavilions in good, clean condition and removing any trash they have generated.
Note: all trash cans have been removed from the Montour Preserve to prevent wildlife conflicts.  Please place all trash generated during your visit into the bear-resistant dumpsters, located near the restroom buildings in each picnic area.  Please bring your own trash bags as you might need.
Pavilion users must remove any tape, thumb tacks or other items they have used to hold signs, decorations or table covers.
Confetti may not be used at the Montour Preserve. In the event that confetti or other trash is found in a pavilion after a group's use has ended, MARC will charge a $40 fee for the required cleanup.  Failure to pay the required cleanup fee will result in individuals / groups being prohibited from reserving Montour Preserve pavilions and other resources.
GEISINGER DISCOUNT
Effective January 1, 2020, MARC will provide a 10% discount on pavilion reservations for Geisinger employees. Applicants may be required to provide proof of employment if requested by MARC.
MARC will waive all fees for pavilion usage by Geisinger departments when used for Geisinger purposes.
TO MAKE A RESERVATION
To make a reservation, please do the following:
1.  Refer to the calendar above to find a date/time that is available.  Remember, all existing reservations are shown here; please make sure the specific pavilion you want to reserve is open.  Please note: because of an increase in unpaid reservations, as of 7/1/19, no reservations will be accepted less than ten days before the desired reservation date.
2.  Contact MARC at Support@MontourPreserve.org to schedule your reservation.  Your reservation will be added to the calendar as 'tentative'.
3.  Complete Page 5 of the Montour Preserve 2024 pavilion reservation form and mail it, with a check for the required fees, to MARC within five business days.  If your form and fees are not received by MARC within that time, your reservation may be removed and the date made available to others.
NOTE: Persons making pavilion reservations at the Montour Preserve are responsible to make all invitees to their reservation aware of the Montour Preserve's site rules, particularly the restrictions on dogs and alcohol.  If MARC staff or security personnel find dogs, alcohol, or other prohibited items in the possession of members of a group, all members of the group may be required to immediately leave the Montour Preserve and no refund shall be given.