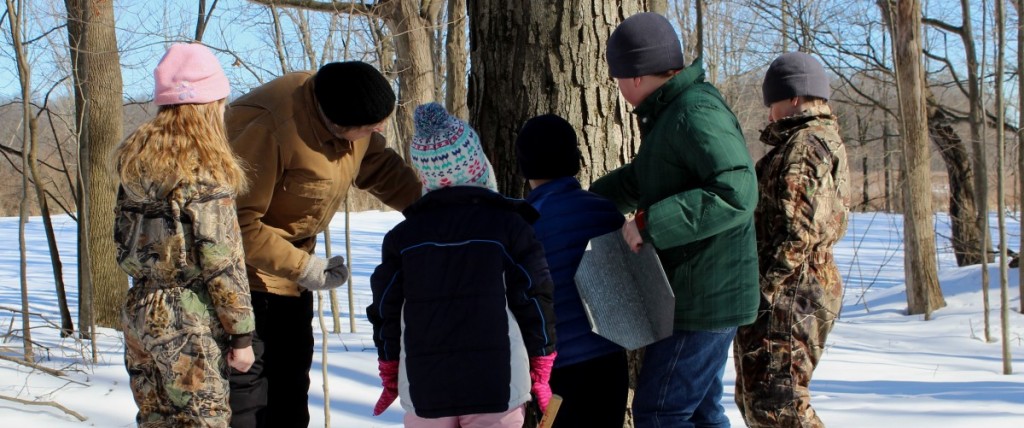 2023 Maple Sugaring
The Montour Area Recreation Commission (MARC) is pleased to announce the dates of the Montour Preserve's 2023 Maple Sugaring Open Houses, in celebration of the Preserve's 50th anniversary.
Two maple sugaring open houses are planned for Saturday, February 25, and Sunday, March 12, 2023.  Hours of operation both days will be from 12:00pm – 4:00pm.  Admission is free for both events, but donations are welcome.
Presentations of the movie 'A Visit to a Maple Sugar Farm' will begin in the auditorium at the top of each hour at 12:00, 1:00, 2:00, and 3:00pm.
Programming at the sugar shack will be done throughout the afternoon. Visitors are welcome to arrive and depart at any time between 12pm – 4pm.  Visitors will be directed to the Montour Preserve's sugar shack along the Goose Woods Trail where they will learn about the cultural and natural history of maple sugaring and have the opportunity to experience the sights, sounds, smells, and tastes of maple sugaring.
Maple products will be available both days for sale from the Roloson Brothers inside the Environmental Education Center.
Montour Preserve 50th anniversary commemorative merchandise – including stickers, patches, t-shirts, pins, and hats – will be available for sale outside the Environmental Education Center.
Once again, MARC will be offering two-hour educational, hands-on maple sugaring programs for schools, home schoolers, and special interest groups. These programs can be scheduled Tuesday through Friday, February 21 through March 3. To schedule a program, contact Jon Beam at jbeam@MontourRec.com.
Please note: only service dogs are allowed at the Montour Preserve. Please leave all pets at home.
---
SECV8/In Your Neighborhood story
MARC thanks Chris O'Rourke and the SECV8/In Your Neighborhood team for helping to demonstrate the maple sugaring process at the Montour Preserve.  To view the video, please click on the image below.