AS OF APRIL 26, LAKE CHILLISQUAQUE IS NOW OPEN TO BOATING FOR THE 2019 SEASON
---
2019 VOLUNTARY LAUNCH TAGS NOW AVAILABLE
Show your support for the Montour Preserve by getting a 2019 Voluntary Launch Tag.
These tags are not required to use Lake Chillisquaque or the Montour Preserve's boat launch,
but your voluntary support will help keep the lake and Preserve facilities open to the public.
To download an application form, please click the image above or click here.
---
  LAKE CHILLISQUAQUE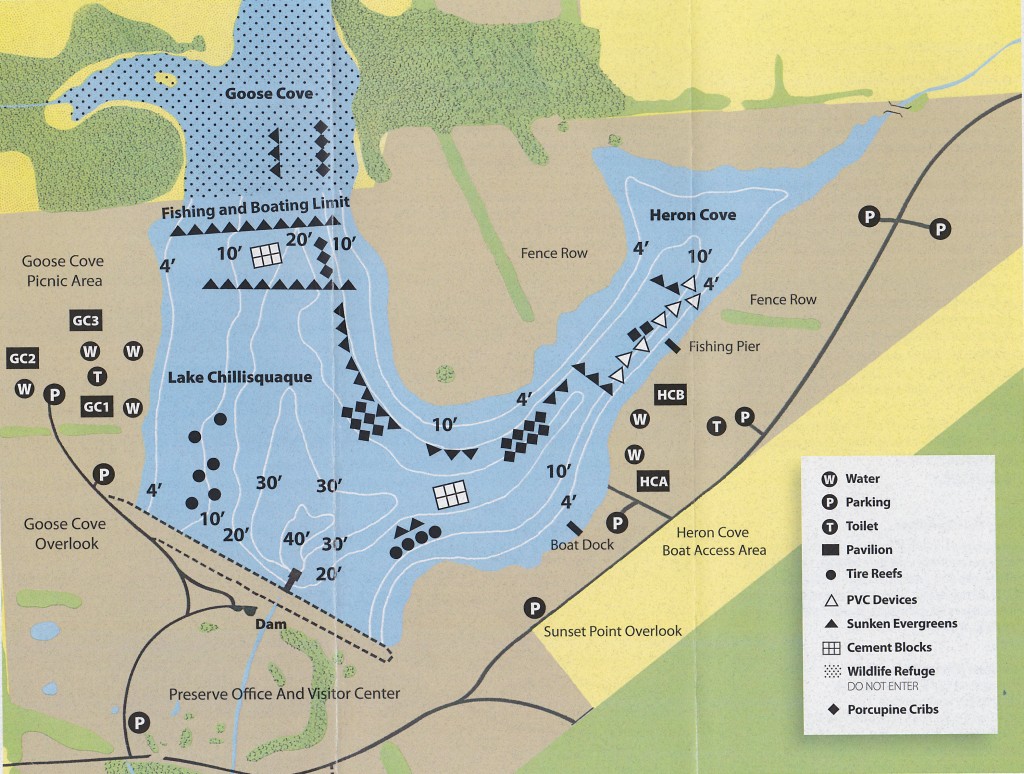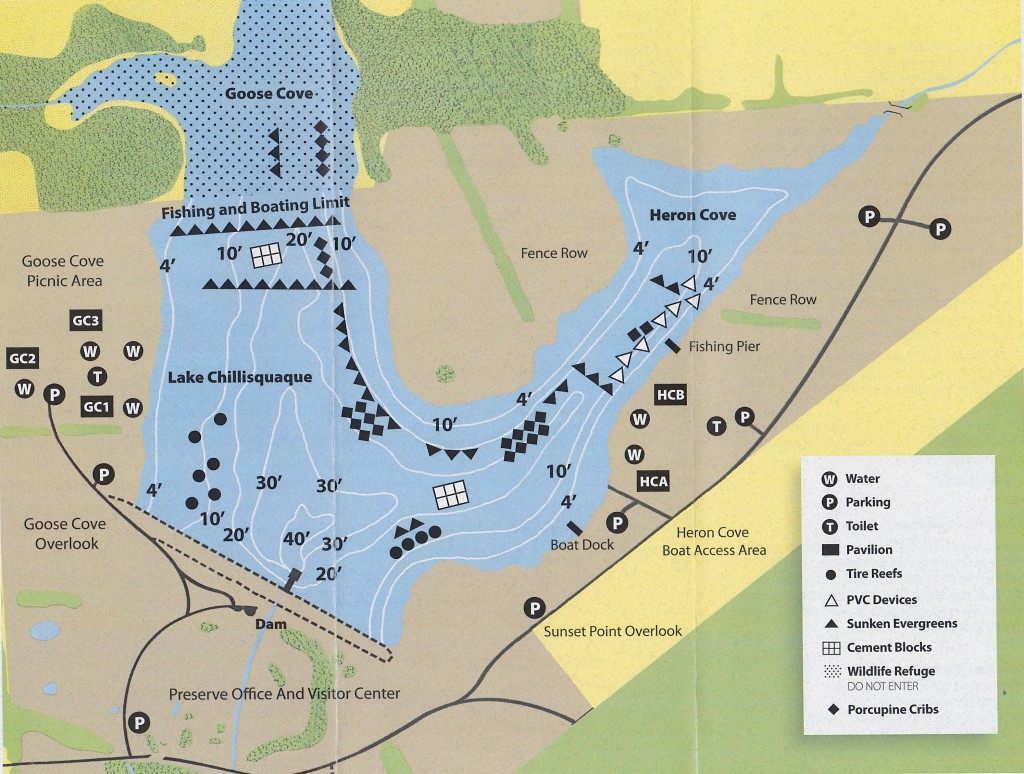 LAKE CHILLISQUAQUE HISTORY AND OVERVIEW
Lake Chillisquaque, a 165-acre reservoir on the middle branch of Chillisquaque Creek, was built as a backup cooling water supply for the nearby Montour Power Plant.  The name 'Chillisquaque' comes from the native American term meaning 'song of the wild goose'.
The lake is home to a naturally reproducing fish population monitored by the PA Fish & Boat Commission.  It includes the following game species:
In cooperation with the PA Fish & Boat Commission and a local bass club, a variety of fish structures have been placed in the lake over the years to enhance fish habitats, recreational fishing and provide shelter and spawning sites for fish.  To learn more about the PA Fish & Boat Commission's habitat improvement efforts, please click here.
When fishing in Lake Chillisquaque, the most effective baits are often minnows, nightcrawlers and crawdads.  Anglers and fish favor some artificial baits such as jigs, buzz baits, Rapalas/Rebels, crankbaits and plastic worms.
A line of buoys, shown on the map above, designates the boundary of the Montour Preserve Wildlife Refuge.  Fishing and boating are not allowed within the refuge at any time.
ICE FISHING
Ice fishing is a popular winter activity at Lake Chillisquaque when the weather allows the safe formation of ice.  In fact, most of the largest fish caught from the lake were pulled from below the ice.
WARNING – NO AGENCY INSPECTS THE ICE THICKNESS
ICE THICKNESS WILL VARY ACROSS THE LAKE
ICE FISHING OR OTHER ACTIVITIES PERFORMED ON THE ICE ARE DONE AT YOUR OWN RISK
To learn more about ice fishing safety, tips and tricks, please visit: http://www.fishandboat.com/Fish/Fishing/Pages/IceWinterFishing.aspx
LAKE RULES
The Montour Area Recreation Commission (MARC) is pleased to continue the long tradition of fishing and boating access on Lake Chillisquaque.  MARC will continue to enforce the same rules that have been in effect, including:
Launch permits are not required to boat on Lake Chillisquaque (voluntary launch tags are encouraged)
Preserve hours are dawn to dark; however, night fishing is allowed from the Heron Cove boat launch parking lot with proper boat lighting ((the Goose Cove side of the lake is closed at dark)
Leave all pets at home
Vehicles and trailers must be parked on paved surfaces in designated spots
Do not swim in the lake, ponds or streams
Alcoholic beverages, narcotics and firearms are prohibited
Boating in Lake Chillisquaque is prohibited from March 15 – April 30; shore fishing is allowed during this time
Boating and fishing in the Goose Cove refuge area is prohibited year-round (watch for signs and buoys)
Gasoline engines may not be used on the lake; electric motors are allowed
Inflatable boats used on the lake must be at least 7ft in length, made of durable, reinforced fabric, and have at least two separate buoyancy chambers exclusive of any inflatable floor or bottom
Fishing is allowed in Lake Chillisquaque, but not in preserve ponds or streams
Radios and other sources of noise must be kept at a level that will not disturb other preserve visitors
Largemouth and smallmouth bass must be a minimum of 15 inches with a daily limit of four (combined species)
From Nov. 1 – April 30, ALL BOATERS must wear a life jacket in boats less than 16ft in length or in any canoe or kayak; all boaters are strongly encouraged to wear a life jacket/PFD year-round
Life jackets/PFDs are required for all watercraft occupants
All PA Fish & Boat Commission regulations apply and are enforced by state waterways conservation officers and their deputies
These rules are enforced by the PA Fish & Boat Commission, PA State Police and the Montour Area Recreation Commission to provide a safe and enjoyable visit for all.  To contact these agencies, please use the following telephone numbers:
MORE FISHING / BOATING INFORMATION
The PA Fish & Boat Commission's website contains a wealth of information for PA anglers and boaters.  Please visit: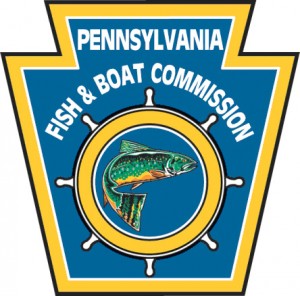 For even more great fishing tips and information, please visit: